Description
ONLINE BOOM TRUCK COURSE OVERVIEW
In our highly mechanized world, cranes are the workhorses that have increased economic growth and productivity in construction, mining, logging, maritime, production, and service facilities.
Mobile cranes are versatile machines that can be used for many job applications from loading and unloading materials to placing those materials or personnel at heights hundreds of feet high.
Mobile cranes come in all sizes and are used to lift everything from small loads to loads in excess of 75 tons.
I-CAB RECOGNIZED COURSE
This content developer is recognized by the International Competency Assessment Board (I-CAB) for its expertise in this subject matter and is listed as a competency development resource for I-CAB assessment participants.
ONLINE BOOM TRUCK COURSE TOPICS
Anatomy of the crane
The importance of daily inspections
Crane stability and load charts
Safety considerations of crane setup
Communication and hand signals
Basic rigging principles
Safe inspect and use of lifting slings
"Critical lifts" and the planning required
The 6 most common hazards associated with crane operation
BOOM TRUCK ONLINE COURSE DURATION: Approximately 90 minutes
BOOM TRUCK ONLINE COURSE ASSESSMENT: Testing conducted throughout this online course is designed to reinforce the information presented. A mark of 80% must be achieved in order to receive a certificate of completion. Participants are able to repeat the course twice if the pass mark is not achieved.
BOOM TRUCK ONLINE COURSE CERTIFICATE OF COMPLETION: Upon successful completion of this online course, a certificate of completion will be available for download and printing.
UNIVERSALLY COMPATIBLE

This course was created using standards that will allow playback on most Internet-capable devices with standard web browsing capabilities including Apple's iTouch, iPad, and iPhone, as well as most other smart phones and tablets including those with Android and Windows operating systems.
BOOM TRUCK ONLINE COURSE PREVIEW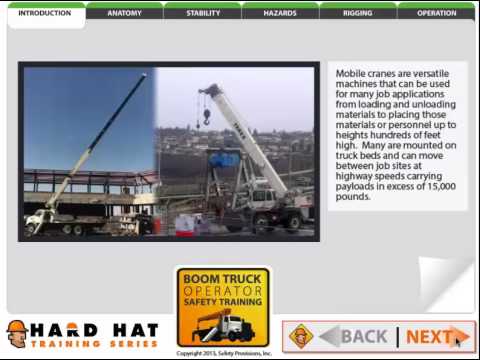 Purchasing multiple courses?  Click here.