Description
CARGO SECUREMENT FOR DRY VANS ONLINE COURSE OVERVIEW
If cargo is not properly secured in a dry van, the consequences can be serious. This online Cargo Securement for Dry Vans course provides best practices designed to help prevent revenue loss, roadside delays, increased insurance rates, injuries, and damage to cargo, vehicles and property.
CARGO SECUREMENT FOR DRY VANS ONLINE COURSE TOPICS
Why cargo securement is important
Federal regulations and what they mean for drivers and carriers
How cargo securement affects CSA scores
Pre-trip responsibilities
Working load limits
How to safely load and secure cargo
Performing required and en route cargo inspections
Cargo securement best practices
CARGO SECUREMENT FOR DRY VANS ONLINE COURSE DURATION: Approximately 90 minutes
CARGO SECUREMENT FOR DRY VANS ASSESSMENT: Testing conducted in this online Cargo Securement For Dry Vans course is designed to reinforce the information presented. A mark of 80% must be achieved in order to receive a certificate of completion. Participants are able to repeat the course twice if the pass mark is not achieved.
CARGO SECUREMENT FOR DRY VANS ONLINE CERTIFICATE OF COMPLETION: Upon successful completion of this online course, a certificate of completion will be available to download and print.
UNIVERSALLY COMPATIBLE

This course was created using standards that will allow playback on most internet capable devices with standard web browsing capabilities including Apple's iTouch, iPad, and iPhone, as well as most other smart phones and tablets including those with Android and Windows operating systems.
CARGO SECUREMENT FOR DRY VANS ONLINE COURSE PREVIEW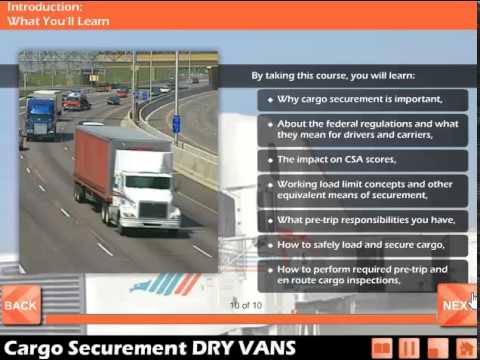 Purchasing multiple courses?  Click here.