Description
ONLINE CHAINSAW SAFETY COURSE
This program is designed to cover the basics of safe, effective chainsaw use including:
Required protective equipment for use in the forestry industry
Parts of the chainsaw
Saw maintenance and sharpening
Effective tree-cutting techniques, including notching and cutting, limbing and bucking, with a strong emphasis on safety
Forestry danger zones and hazardous trees
Proper stance
Operator fatigue
I-CAB RECOGNIZED COURSE
This content developer is recognized by the International Competency Assessment Board (I-CAB) for its expertise in this subject matter and is listed as a competency development resource for I-CAB assessment participants.
CHAINSAW SAFETY ONLINE COURSE TOPICS
In this online chainsaw safety course, the following topics are covered:
Safe chainsaw handling
Personal Protective Equipment (PPE)
Required equipment
The saw
Felling trees
Cutting techniques
ONLINE CHAINSAW SAFETY COURSE DURATION: Approximately 60 minutes
CHAINSAW SAFETY ONLINE ASSESSMENT: Knowledge testing is conducted throughout the course. Test questions are designed to reinforce the information presented and must be completed by each participant. A mark of 80% must be achieved in order to receive a certificate of completion. Each participant is allowed to repeat the course twice if the course pass mark has not been achieved.
CHAINSAW SAFETY CERTIFICATE OF COMPLETION: Participants who successfully pass this course will be able to print and download an online certificate of completion.
CHAINSAW SAFETY CERTIFICATE OF COMPLETION VALIDATION DATE: The online certificate is valid for 3 years from the course completion date.
UNIVERSALLY COMPATIBLE

This course was created using standards that will allow playback on most internet capable devices with standard web browsing capabilities including Apple's iTouch, iPad, and iPhone, as well as most other smart phones and tablets including those with Android and Windows operating systems.
CHAINSAW SAFETY ONLINE COURSE PREVIEW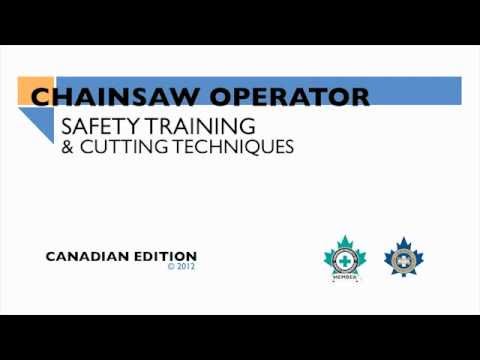 Purchasing multiple courses?  Click here.