Description
HOURS OF SERVICE: DRIVER TRAINING COURSE OVERVIEW
This course will give you an overview of the FMCSA's hours of service (HOS) rules that drivers must comply with, including a detailed look at how to comply with the HOS regulations and how to maintain an accurate record of duty status.
Regulations covered by this course include: 49 CFR Part 395
After completing this course, supervisors will understand:
The purpose and importance of hours-of-service regulations
How to apply hours-of-service regulations, including:

The daily 11-Hour Driving Limit, the 10-hour Off-Duty Rule, the 14-Hour Duty Rule, and the Mandatory Break Provision
The weekly 60-Hour/7-day and 70-Hour/8-day On-Duty Limits, and the 34-Hour Restart Provision
The exceptions to the weekly and daily limits

How to comply with hours-of-service regulations by:

Managing time spent driving, on-duty, and off-duty,
Maintaining a current, accurate record of duty status.
HOURS OF SERVICE: DRIVER TRAINING COURSE TOPICS:
Hours of Service Overview

Hours of Service Overview
Driver Fatigue
When do the Regulations Apply?
On-Duty vs. Off-Duty Time

Hours of Service Regulations

Hours of Service Regulations
Daily Driving and Duty Limits
Weekly Driving and Duty Limits
Optional 34-Hour Restart Provision
Record of Duty Status
Putting it all Together

Exceptions

Exceptions
The 100 Air-Mile Exception
The 150- Air-Mile Exception
The 16-Hour Short Haul Exception
The Sleeper-Berth Provision
The Split-Sleeper Option
The Adverse Driving Conditions Exception
The Oilfield Exception
HOURS OF SERVICE: DRIVER TRAINING COURSE DURATION: Approximately 60 minutes
HOURS OF SERVICE: DRIVER TRAINING TESTING: Testing conducted in this online Hours of Service: Driver Training course is designed to reinforce the information presented. A mark of 80% must be achieved in order to receive a certificate of completion. Users are able to repeat the course twice if the pass mark is not achieved.
HOURS OF SERVICE: DRIVER TRAINING CERTIFICATE OF COMPLETION: Upon successful completion of this online course, a certificate of completion will be available to download and print.
UNIVERSALLY COMPATIBLE

This course was created using standards that will allow playback on most internet capable devices with standard web browsing capabilities including Apple's iTouch, iPad, and iPhone, as well as most other smart phones and tablets including those with Android and Windows operating systems.
HOURS OF SERVICE: DRIVER TRAINING COURSE PREVIEW: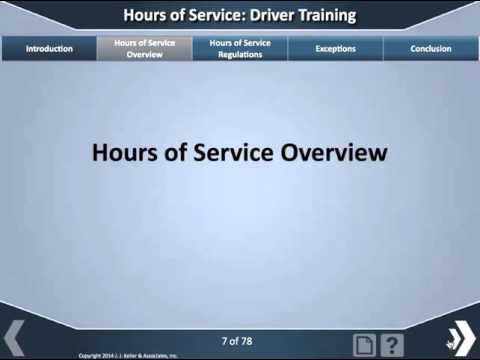 Purchasing multiple courses?  Click here.