Description
MOTORCOACH: DEFENSIVE DRIVING COURSE OVERVIEW
Helps protect your company's bottom line from the high costs of violations counted in CSA and reduces the likelihood of your company undergoing a full compliance review intervention
After completing this course, students will understand:
How driving a motorcoach differs from driving a standard passenger vehicle;
How to see everything around you and make sure you can be seen by others;
How to have heightened awareness of potential hazards and how to avoid them;
How to manage speed and space to minimize dangerous situations;
How to be responsible for the safety of yourself and your passengers.
MOTORCOACH: DEFENSIVE DRIVING COURSE TOPICS:
Seeing and being seen, which includes using visual scans to actively look for hazards
Having heightened awareness, which includes hazard awareness and hazard perception, having a plan and being ready to carry out the plan
Managing your speed and space, which includes information on speed management, space management and using a safety cushion to prevent crashes and provide a safe, smooth ride for passengers
MOTORCOACH: DEFENSIVE DRIVING COURSE DURATION: Approximately 60 minutes
MOTORCOACH: DEFENSIVE DRIVING TESTING: Testing conducted in this online Motorcoach: Defensive Driving course is designed to reinforce the information presented. A mark of 80% must be achieved in order to receive a certificate of completion. Users are able to repeat the course twice if the pass mark is not achieved.
MOTORCOACH: DEFENSIVE DRIVING CERTIFICATE OF COMPLETION: Upon successful completion of this online course, a certificate of completion will be available to download and print.
MOTORCOACH: DEFENSIVE DRIVING COURSE PREVIEW: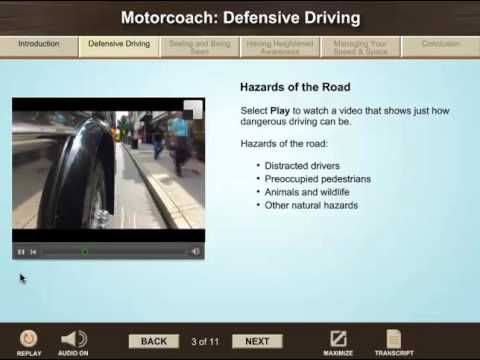 Purchasing multiple courses?  Click here.