Description
MOTORCOACH: VEHICLE INSPECTIONS COURSE OVERVIEW
This course provides a step-by-step procedure for conducting pre-trip inspections; and an overview of what to look for during en-route and post-trip inspections.
After completing this course, students will understand:
How comprehensive vehicle inspections improve safety and reduce financial losses;
How to conduct pre-trip inspections to head off problems before they arise;
How to conduct on-the-road inspections to make sure everything is running smoothly;
How to conduct post-trip inspections to check for any changes since your pre-trip inspection;
Good inspection habits: do everything, in the same order, every time.
MOTORCOACH: VEHICLE INSPECTIONS COURSE TOPICS:
A 6-step procedure for conducting thorough pre-trip inspections
On-the-road inspections, and critical areas to check when stopped
Post-trip inspections (which usually mirror pre-trip inspections) and the information that's recorded on the DVIR
The consequences of missed inspection points
The connection between proper vehicle inspections and customer safety and service
MOTORCOACH: VEHICLE INSPECTIONS COURSE DURATION: Approximately 60 minutes
MOTORCOACH: VEHICLE INSPECTIONS TESTING: Testing conducted in this online Motorcoach: Vehicle Inspections course is designed to reinforce the information presented. A mark of 80% must be achieved in order to receive a certificate of completion. Users are able to repeat the course twice if the pass mark is not achieved.
MOTORCOACH: VEHICLE INSPECTIONS CERTIFICATE OF COMPLETION: Upon successful completion of this online course, a certificate of completion will be available to download and print.
MOTORCOACH: VEHICLE INSPECTIONS COURSE PREVIEW: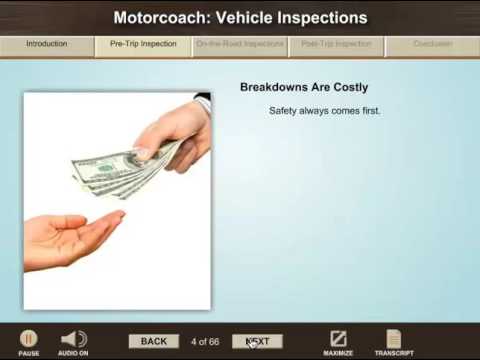 Purchasing multiple courses?  Click here.