Description
POOLSAFE ONLINE COURSE OVERVIEW
The PoolSafe course provides learners with the knowledge and skills they need to recognize, evaluate, and control hazards in swimming pool settings. With between 80 and 100 time-loss injuries each year to swimming pool staff, it's essential that pool employees are able to mitigate the dangers they face.
With a focus on young workers, this course assists pool employees in mitigating hazards for themselves, and helping others stay safe.
POOLSAFE ONLINE COURSE TOPICS
Employee rights and responsibilities
Common pool hazards
The effects of microbiological organisms
Chemical safety
Emergency preparation and response
POOLSAFE ONLINE COURSE DURATION
Approximately 120 minutes.
POOLSAFE ONLINE ASSESSMENT
Testing conducted throughout this online course is designed to reinforce the information presented. A mark of 80% must be achieved in order to receive a certificate of completion. Participants are able to repeat the course twice if the pass mark is not achieved.
POOLSAFE CERTIFICATE OF COMPLETION
Upon successful completion of this online course, a certificate of completion will be available for download and printing.
POOLSAFE ONLINE COURSE PREVIEW: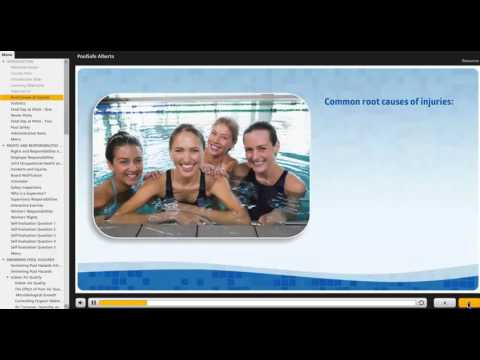 Purchasing multiple courses?  Click here.