Description
REASONABLE SUSPICION OF EMPLOYEES COURSE OVERVIEW
Substance abusers cost employers approximately $10,000/year due to absenteeism, low productivity, lost time accidents, and increased health and WCB costs.
Many employers focus on drug and alcohol testing programs but may overlook education for their workers. The majority of workers are not aware of how drugs and alcohol negatively affect safety, productivity and culture on the job site. This online course provides substance abuse awareness to employees.
It is recommended that all employees, who are subject to drug and alcohol testing in accordance with their company workplace drug and alcohol policy, complete a drug and alcohol awareness course.
After taking this course, learners will have an understanding of:
Types of drugs and their negative side effects
Alcohol and its negative side effects
The effect drugs and alcohol have on workplace safety
Proper procedure to follow if co-worker impairment on the job site is suspected
How to ask for help if a worker has an addiction
REASONABLE SUSPICION OF EMPLOYEES COURSE TOPICS:
Introduction
Alcohol and recognizing the signs of abuse
Recognizing the signs of drug abuse
How drugs and alcohol affect safety in the workplace
Reporting Suspicions
Options available to individuals with a substance abuse problem
REASONABLE SUSPICION OF EMPLOYEES COURSE DURATION: Approximately 45 minutes
REASONABLE SUSPICION OF EMPLOYEES TESTING: Testing conducted in this online Reasonable Suspicion of Employees course is designed to reinforce the information presented. A mark of 80% must be achieved in order to receive a certificate of completion. Users are able to repeat the course twice if the pass mark is not achieved.
REASONABLE SUSPICION OF EMPLOYEES CERTIFICATE OF COMPLETION: Upon successful completion of this online course, a certificate of completion will be available to download and print.
REASONABLE SUSPICION OF EMPLOYEES COURSE PREVIEW: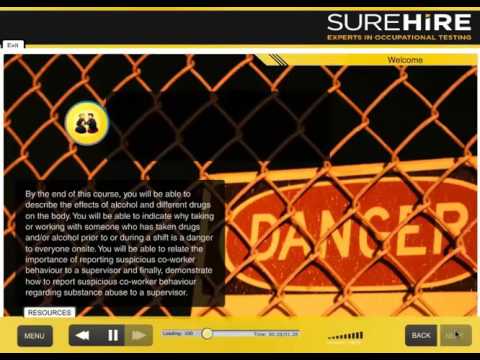 Purchasing multiple courses?  Click here.