Description
SLIPS & TRIPS FOR CONSTRUCTION COURSE OVERVIEW
Falls are one of the most common causes of construction jobsite injuries and deaths. The Bureau of Labor Statistics reports that in 2012, falls, slips, and trips accounted for 285,380 nonfatal injuries and 570 fatal work injuries in the workplace.
This online course is designed to help learners recognize and avoid slip and trip hazards. It will also teach them to take the proper measures to ensure their safety and the safety of others on the jobsite.
After completing this course, learners will be able to:
Recognize the difference between slips and trips and what causes each of them to occur
Discuss the potential injuries sustained and costs associated with slips and trips
Describe ways to prevent slips and trips on the jobsite
SLIPS & TRIPS FOR CONSTRUCTION COURSE TOPICS:
Slip & Trip Basics

What is a Slip?
What is a Trip?
Causes of Slips & Trips on the Jobsite
Potential Injuries
Cost of Slips, Trips, & Falls

Preventing Slips & Trips

Reducing Incidents
Jobsite Design
Employee Best Practices
Proper Footwear & Safe Walking Practices
Housekeeping
Correct & Report Hazards
SLIPS & TRIPS FOR CONSTRUCTION COURSE DURATION: Approximately 30 minutes
SLIPS & TRIPS FOR CONSTRUCTION TESTING: Testing conducted in this online Slips & Trips for Construction course is designed to reinforce the information presented. A mark of 80% must be achieved in order to receive a certificate of completion. Users are able to repeat the course twice if the pass mark is not achieved.
SLIPS & TRIPS FOR CONSTRUCTION CERTIFICATE OF COMPLETION: Upon successful completion of this online course, a certificate of completion will be available to download and print.
SLIPS & TRIPS FOR CONSTRUCTION COURSE PREVIEW: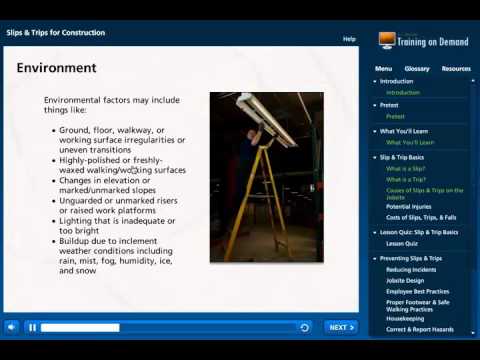 Purchasing multiple courses?  Click here.