Description
SPEED & SPACE MANAGEMENT ONLINE COURSE OVERVIEW
Drivers need to understand how speed and space management can impact their ability to react to hazards or to stop when needed. As a driver, having a proper space cushion around your vehicle is vital to properly managing your speed and space. As you will see in this course, a driver's ability to stop is impacted by a number of factors, including perception distance, reaction distance, braking distance, weather, traffic, and construction. In this course, we will expand on these and more factors and provide drivers with information to help them manage their speed and space while on the road.
SPEED & SPACE MANAGEMENT ONLINE COURSE TOPICS
What Is Speed and Space Management?
Poor Speed and Space Management
Stopping Distance

Stopping Distance
Perception Distance
Reaction Distance
Braking Distance
How to Calculate

Space Cushion

Principles
Ahead
Behind
Sides
Above and Below
SPEED & SPACE MANAGEMENT ONLINE COURSE DURATION: Approximately 30 minutes
SPEED & SPACE MANAGEMENT TESTING: Testing conducted in this online Speed & Space Management – EYE ON course is designed to reinforce the information presented. A mark of 80% must be achieved in order to receive a certificate of completion. Participants are able to repeat the course twice if the pass mark is not achieved.
SPEED & SPACE MANAGEMENT CERTIFICATE OF COMPLETION: Upon successful completion of this online course, a certificate of completion will be available to download and print.
UNIVERSALLY COMPATIBLE

This course was created using standards that will allow playback on most internet capable devices with standard web browsing capabilities including Apple's iTouch, iPad, and iPhone, as well as most other smart phones and tablets including those with Android and Windows operating systems.
SPEED & SPACE MANAGEMENT ONLINE COURSE PREVIEW: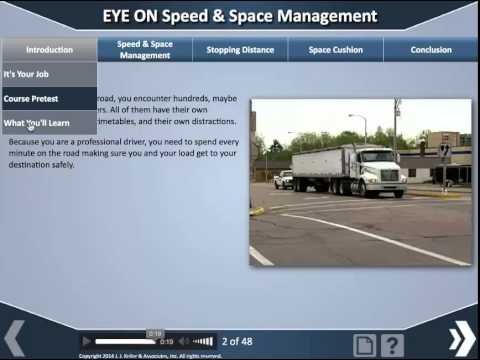 Purchasing multiple courses?  Click here.