Description
STAND-UP FORKLIFTS ONLINE COURSE OVERVIEW
Among material handling equipment, forklifts are the most important. Forklifts are found in most industries that require loads to be moved around warehouses and work sites.
This online Stand-Up Forklifts course covers the anatomy, operation, inspection, and hazards of powered industrial trucks, also known as fork trucks, lift forks, or forklifts.
I-CAB RECOGNIZED COURSE
This content developer is recognized by the International Competency Assessment Board (I-CAB) for its expertise in this subject matter and is listed as a competency development resource for I-CAB assessment participants.
STAND-UP FORKLIFTS ONLINE COURSE TOPICS
Different types of forklifts and their anatomy
Why it's important to conduct a thorough pre-use inspection each day
Forklift stability and the importance of knowing the machine's capacity
Safe operating and load-handling principles
Battery care including proper procedures for charging and changing industrial batteries
The six most common hazards associated with forklift operation
STAND-UP FORKLIFTS ONLINE COURSE DURATION: Approximately 90 minutes
STAND-UP FORKLIFTS ONLINE COURSE ASSESSMENT: Testing conducted throughout this online Stand-Up Forklifts course is designed to reinforce the information presented. A mark of 80% must be achieved in order to receive a certificate of completion. Participants can repeat the course twice if the pass mark is not achieved.
STAND-UP FORKLIFTS COURSE ONLINE CERTIFICATE OF COMPLETION: Upon successful completion of this online course, a certificate of completion will be available to download and print.
UNIVERSALLY COMPATIBLE

This course was created using standards that will allow playback on most Internet-capable devices with standard web browsing capabilities including Apple's iTouch, iPad, and iPhone, as well as most other smart phones and tablets including those with Android and Windows operating systems.
STAND-UP FORKLIFT ONLINE COURSE PREVIEW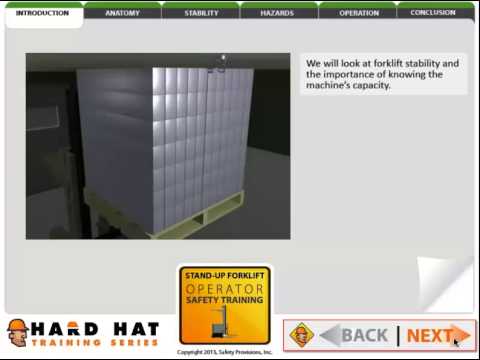 Purchasing multiple courses?  Click here.