Description
WHMIS 2015 GHS COURSE OVERVIEW
LOGIN. GET INFORMED. GET BACK TO WORK SAFELY!
This WHMIS 2015 GHS informs the learner of the standards established by the United Nations for the safe manufacturing and handling of chemicals. These same standards are applicable in most every county on the planet! We developed this course so that you can become apprised of these standards efficiently and effectively.
A PDF of the course is available under the resources tab in the course, or by clicking the PDF icon next to the course in the training tab of the learners account.
NOTE: Learners will still have to become aware of any site-specific WHMIS 2015 requirements pertinent to the environment they are working in.
Good Luck and Have Fun Learning.
WHMIS 2015 GHS COURSE TOPICS:
An Introduction to WHMIS
Hazardous Materials
Roles & Responsibilities
WHMIS Labels
Safety Data Sheets
WHMIS 2015 GHS COURSE DURATION: Approximately 60 minutes
WHMIS 2015 GHS TESTING: Learners will be quizzed at the end of each section to prepare them for the final exam. The answers to the quiz items will be assessed but not tracked. The learner must achieve a mark of 80% on the final exam to pass this course. Learners may repeat the course a second time if they do not attain the pass mark on their first attempt.
WHMIS 2015 GHS CERTIFICATE OF COMPLETION: Upon successful completion of this online course, a certificate of completion will be available to download and print.
WHMIS 2015 GHS COURSE PREVIEW: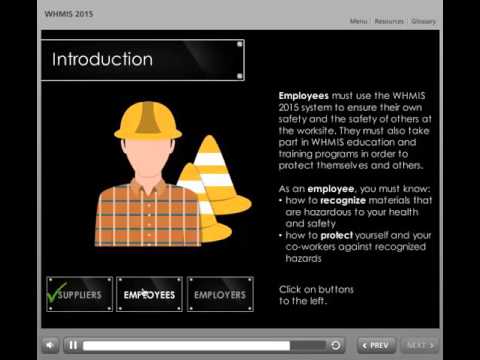 Purchasing multiple courses?  Click here.