Description
WINTER DRIVING ONLINE COURSE OVERVIEW
Winter driving is not easy and at times can be dangerous. This online Winter Driving course is designed for organizations and individuals who wish to review and enhance their winter driving knowledge. The course covers everything from pre-winter strategies through to steering and braking in emergencies.
WINTER DRIVING ONLINE COURSE TOPICS
Preparing for winter driving conditions

Windows and wipers
Journey management
Regular maintenance
Winter tires
Emergency kit
Roads and black ice

SAFER System of Defensive Driving

SPACE

Following distance
Driving with the intention of space
Space and adverse conditions
Intersections

ATTITUDE

Four key words
Attitude and patience

FORESIGHT
EYESIGHT

Visual scanning patterns
Horizon method

RESPONSIBILITY

Getting home safe
Safe breakdown procedures
Trapped in a blizzard
Getting unstuck
Advanced driving

Visual targeting
Motion and braking
Cornering
Emergency braking
Skid control
Collision avoidance
This program was developed by Dr. Randy Flemmer who has over 30 years of driver education and fleet safety experience.
WINTER DRIVING ONLINE COURSE DURATION: Approximately 90 mins
WINTER DRIVING ONLINE ASSESSMENT: Testing conducted throughout this online Winter Driving course is designed to reinforce the information presented. A mark of 80% must be achieved in order to receive a certificate of completion. Participants are able to repeat the course twice if the pass mark is not achieved.
WINTER DRIVING ONLINE CERTIFICATE OF COMPLETION: Upon successful completion of this online course, a certificate of completion will be available for download and printing.
WINTER DRIVING ONLINE COURSE PREVIEW: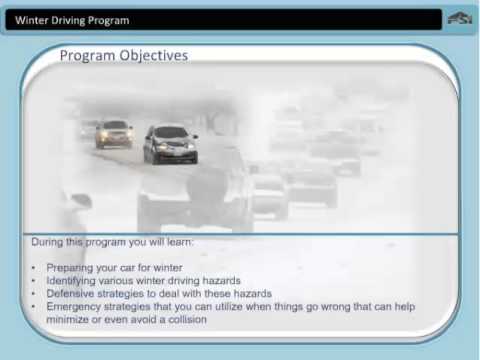 Purchasing multiple courses?  Click here.