Description
HAZWOPER: HAZARD RECOGNITION COURSE OVERVIEW
This online course provides HAZWOPER training that covers how to recognizing hazardous substances.
After completing this course, students will understand:
How to recognize hazardous substances
The definition of a health hazard and physical hazard
The types of hazards that may be found at a hazardous waste site
Basic concepts in toxicology, such as dosage, routes of exposure and toxic effects
Methods for identifying hazardous substances
And site characterization and job hazard analysis
HAZWOPER: HAZARD RECOGNITION COURSE TOPICS:
Types of Hazards — Health Hazards, Physical Hazards, General Site Hazards
Substance Hazard Recognition Methods — Basic Hazard Indicators, Container Labels, Hazard Identification Tools
Assessing Hazards — Site Characterization, Job Hazard Analysis
HAZWOPER: HAZARD RECOGNITION COURSE DURATION: Approximately 90 minutes
HAZWOPER: HAZARD RECOGNITION TESTING: Testing conducted in this online HAZWOPER: Hazard Recognition course is designed to reinforce the information presented. A mark of 80% must be achieved in order to receive a certificate of completion. Users are able to repeat the course twice if the pass mark is not achieved.
HAZWOPER: HAZARD RECOGNITION CERTIFICATE OF COMPLETION: Upon successful completion of this online course, a certificate of completion will be available to download and print.
HAZWOPER: HAZARD RECOGNITION COURSE PREVIEW: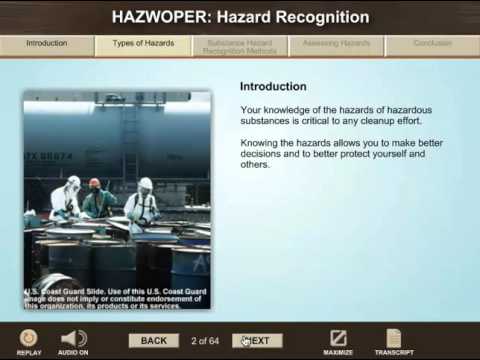 Purchasing multiple courses?  Click here.