Description
LEADERSHIP FUNDAMENTALS COURSE OVERVIEW
This online Leadership Fundamentals course will teach you how to identify key characteristics of leaders, build trust and confidence with employees, and avoid behaviours that undermine leadership. After you've completed this course, you should also be able to:
Promote teamwork and esprit de corps
Act decisively
Demonstrate leadership in a crisis
Communicate effectively
LEADERSHIP FUNDAMENTALS ONLINE COURSE TOPICS
Characteristics of effective leaders
Behaviours that undermine leadership
The impact of leadership
Leadership in a crisis
Case studies
LEADERSHIP FUNDAMENTALS COURSE DURATION: Approximately 60 minutes
LEADERSHIP FUNDAMENTALS ASSESSMENT: Testing conducted in this course is designed to reinforce the information presented. A mark of 80% must be achieved in order to receive a certificate of completion. Users are able to repeat the course twice if the pass mark is not achieved on the first attempt.
LEADERSHIP FUNDAMENTALS ONLINE CERTIFICATE OF COMPLETION: Upon successful completion of this online course, a certificate of completion will be available to download and print.
LEADERSHIP FUNDAMENTALS COURSE PREVIEW: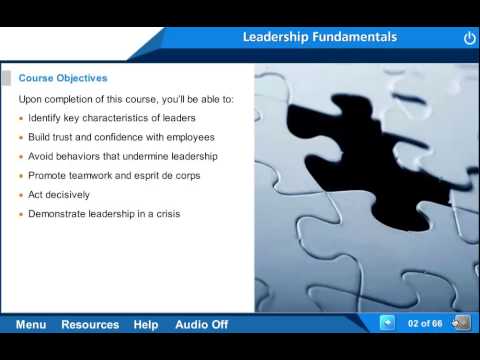 Purchasing multiple courses?  Click here.