Description
TEAM BUILDING FOR EMPLOYEES COURSE OVERVIEW
Team Building for Employees is an informative and interactive course designed to help your employees contemplate what teamwork means in the workplace. The program focuses on how to be a better member of a highly productive team by improving communication, cooperation and commitment.
TEAM BUILDING FOR EMPLOYEES COURSE TOPICS:
The importance of teams
Some fundamental traits of good teams
Typical problem areas teams encounter
How to help form a team
How to strengthen a team
How to better become part of a team
Some ways to better communicate within a team
TEAM BUILDING FOR EMPLOYEES COURSE DURATION: Approximately 60 minutes
TEAM BUILDING FOR EMPLOYEES TESTING: Testing conducted in this online Team Building for Employees course is designed to reinforce the information presented. A mark of 80% must be achieved in order to receive a certificate of completion. Users are able to repeat the course twice if the pass mark is not achieved.
TEAM BUILDING FOR EMPLOYEES CERTIFICATE OF COMPLETION: Upon successful completion of this online course, a certificate of completion will be available to download and print.
TEAM BUILDING FOR EMPLOYEES COURSE PREVIEW: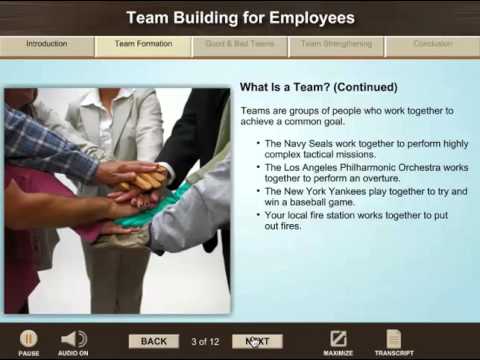 Purchasing multiple courses?  Click here.