Description
CONFINED SPACE AWARENESS & RESCUE ONLINE COURSE OVERVIEW
Confined spaces are everywhere. They can be found in virtually every industry, but are also as unique as the individuals who enter them. Grain silos, sewers, cargo tanks, holds, engine rooms, storage lockers, crawl spaces, tunnels, access-ways, wells, cellars, culverts, vaults, trenches, even rooms within ordinary buildings are all types of confined spaces.
This course will focus on general safety principles and provide information that will increase your recognition of potential confined spaces, improve your knowledge of safe operations, and keep you and those around you safe. More specifically, we will take a look at the various pieces of equipment necessary for safe entry, exit, and all the work in between.
This CSA and OHS-Compliant Confined Space Awareness (General Industry, Construction, Maritime) course satisfies Canada's requirements for the classroom portion of operator safety training.
I-CAB RECOGNIZED COURSE
This content developer is recognized by the International Competency Assessment Board (I-CAB) for its expertise in this subject matter and is listed as a competency development resource for I-CAB assessment participants.
CONFINED SPACE AWARENESS & RESCUE ONLINE COURSE TOPICS
Introduction
Equipment use and inspection
Atmospheric testing
Safe operations and entry duties
Permits
Common hazards
Rescue procedures and roles
CONFINED SPACE AWARENESS & RESCUE COURSE DURATION:
Approximately 2 hours
CONFINED SPACE AWARENESS & RESCUE ONLINE QUIZ:
Quizzes conducted throughout this course are designed to reinforce the information presented. A mark of 80% must be achieved in order to receive a certificate of completion. Participants are able to repeat the course twice if the pass mark is not achieved.
Upon completion, you will be provided with a checklist which can be used by your employer to administer the required practical observation.
CONFINED SPACE AWARENESS & RESCUE ONLINE CERTIFICATE OF COMPLETION:
Upon successful completion of this online course, a certificate of completion will be available to download and print.
UNIVERSALLY COMPATIBLE

This course was created using standards that will allow playback on most Internet-capable devices with standard web browsing capabilities including Apple's iTouch, iPad, and iPhone, as well as most other smart phones and tablets including those with Android and Windows operating systems.
CONFINED SPACE AWARENESS & RESCUE PREVIEW: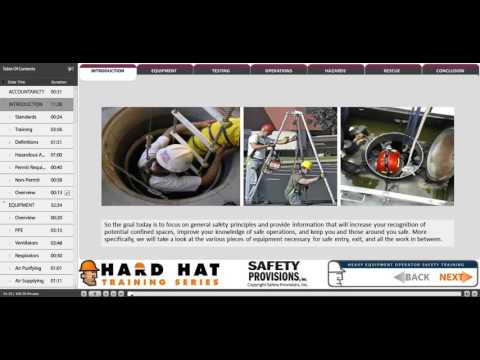 Purchasing multiple courses?  Click here.