Description
MANAGING SAFETY SELF AWARENESS COURSE OVERVIEW
This innovative, one of a kind course provides managers, supervisors and foremen with an understanding of how personality contributes to increasing or reducing safety risks in the workplace and how you can tailor your coaching and management style to be a more effective leader in reducing safety incident rates.
During the course, you will be asked to complete a brief assessment designed to increase your Safety Self-Awareness. The assessment will give you a picture of your own personality default settings so you can leverage your strengths and target areas where you can develop and improve. Your results will be combined into a personal safety profile and throughout the course, your learning will be geared specifically towards this profile.
MANAGING SAFETY SELF AWARENESS COURSE TOPICS
Understanding Personality Differences
Human Error and Workplace Incidents
Managing Safety Risk Factors
The Six Dimensions of Safety Risk
MANAGING SAFETY SELF AWARENESS COURSE DURATION: Approximately 60 minutes
MANAGING SAFETY SELF AWARENESS COURSE ASSESSMENT: Testing conducted throughout this online course is designed to reinforce the information presented. A mark of 70% must be achieved in order to receive a certificate of completion. Participants are able to repeat the course twice if the pass mark is not achieved.
MANAGING SAFETY SELF AWARENESS CERTIFICATE OF COMPLETION: Upon successful completion of this online course, a certificate of completion will be available for download and printing.
MANAGING SAFETY SELF AWARENESS COURSE PREVIEW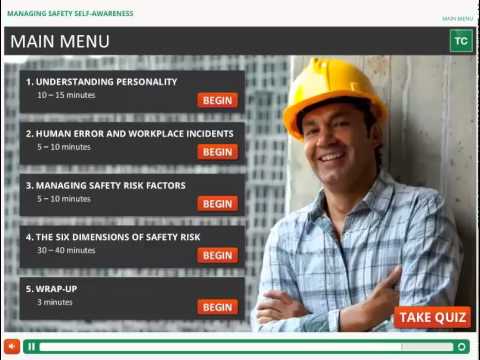 Purchasing multiple courses?  Click here.